AST4830
Diesel 1.4 / 1.5 / 1.6 TDCi, 1.8 T/TDdi/TDCi, 2.0 / 2.2 TDCi Duratorq Engine Setting / Locking Kit (Belt) - FORD
Models
Engines
Ford
1.4 / 1.5 / 1.6 / 1.8 / 2.0 / 2.2
B-MAX
C-MAX ('07)
C-MAX ('11)
C-MAX ('15)
Courier ('96)
EcoSport
Edge
Escort
Fiesta ('04/'08)
Fiesta (02)
Fiesta (13)
Focus ('04/'08)
Focus ('11)
Focus ('15)
Focus C-Max
Fusion
Galaxy ('06)
Galaxy ('15)
Grand C-MAX ('11)
Grand C-MAX ('15)
Grand Tourneo Connect ('14)
Kuga ('13)
Mondeo ('07)
Mondeo ('15)
S-MAX ('15)
Tourneo Connect ('14)
Transit Connect ('14)
Transit Courier ('`14)
1.4D TDCi
F6JA
F6JB
F6JC
F6JD
1.5D TDCi
ENUG
UGCA
UGCB
UGCC
UGJC
UGJE
XUGA
XUJA
XUJB
XVGA
XVGB
XVGC
XVJA
XVJC
XWDA
XWDB
XWDC
XWDD
XWGA
XWGB
XXDA
XXDB
XXDC
XXDD
1.6D TDCi
G8DA
G8DB
G8DC
G8DD
G8DE
G8DF
GPDA
GPDB
GPDC
HHDA
HHDB
HHJA
HHJB
HHJC
HHJD
HHJE
HHJF
MTDA
NGDA
T1BA
T1BB
T1BC
T1DA
T1DB
T1GA
T1WA
T1WB
T3CA
T3CB
T3CC
T3DA
T3DB
T3JA
T3JB
TZGA
TZGB
TZJA
TZJB
UBGA
UBJA
1.8D TDCi / Tddi
BHDA
BHDB
BHPA
C9DA
C9DB
C9DC
F9DA
F9DB
FFBA
FFDA
FFWA
HCPA
HCPB
KHBA
KKDA
KKDB
OYBA
OYWA
P7PA
P9PA
P9PB
R2PA
R3PA
RFD
RFK
RTJ
RTK
RTN
RTO
RTP
RWPA
RWPC
2.0D TDCi
AZBA
AZBC
AZWA
AZWC
G6DA
G6DB
G6DC
G6DD
G6DE
G6DF
G6DG
IXDA
KLBA
KLWA
LPBA
QXBA
QXBB
QXWA
QXWB
T7CE
T7CJ
T7CK
T7CL
T7DA
T7DB
T7MA
T7MB
T8CC
T8CD
T8CH
T8CI
T8CJ
T8CL
T8DA
T8DE
T8MA
T8MB
T9CA
T9CB
T9CC
T9CE
TXBA
TXBB
TXDA
TXDB
TXMA
TXWA
TYBA
TYDA
TYWA
UFBA
UFCA
UFCB
UFDA
UFDB
UFMA
UFWA
UKBA
UKBB
UKDA
UKDB
UKMA
UKWA
XRMA
XRMB
2.2D TDCi
KNBA
KNBB
KNWA
Q4BA
Q4WA
With this kit you may also need: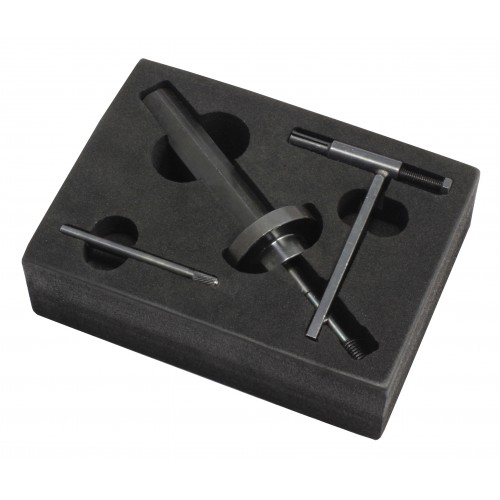 AST5057
Diesel 1.8 TDCi Engine Timing Chain / Belt-in-Oil Service Kit - Ford
To be used in conjunction with AST4830 - AST5057 contains the additional tools required when carrying out service procedures involving the lower Timing Chain or Belt-in-Oil that runs from the high pressure fuel pump to the crankshaft. AST5057 contains the fuel pump setting & locking tools and the lower timing cover alignment tool.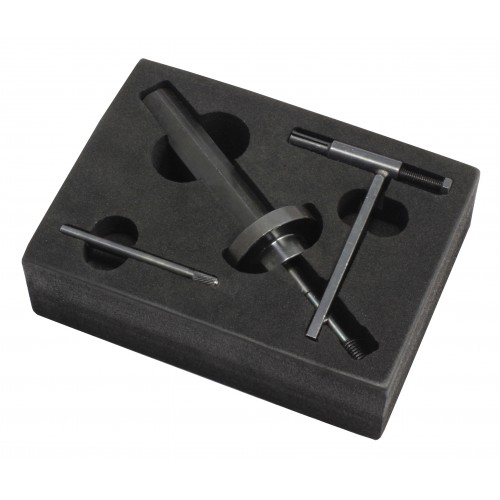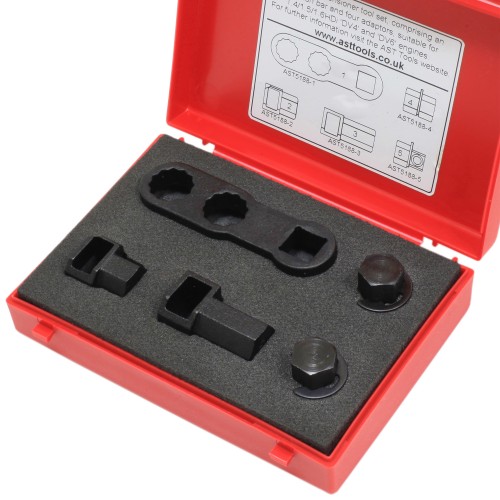 AST5188
Auxiliary Belt Tensioner Tool Set - 1.4 / 1.5 / 1.6 / 2.0 / 2.2 Diesel Engines FORD - PSA
AST5188 Auxiliary Belt Tensioner Set provides a safe and controlled method of adjusting the tensioner position during removal and installation of the auxiliary belt.
The tensioner features a raised peg, which acts as a location to apply leverage to the tensioner to remove or install the belt.
AST5188 contains a series of adaptors, along with an extension bar to allow easy purchase on the raised peg, which can then be used with an appropriate tensioner wrench and low profile thin walled socket such as the items contained in the set AST4594A.
Removal and installation of the auxiliary belt often coincides with the changing of the engine timing belt and therefore this tool can be used along with Engine Setting & Locking Kits AST4735A, AST4820, AST4830, AST5100AFORD and AST5100APSA.
Also used on 2.0 / 2.2 DW10 and DW12 engines.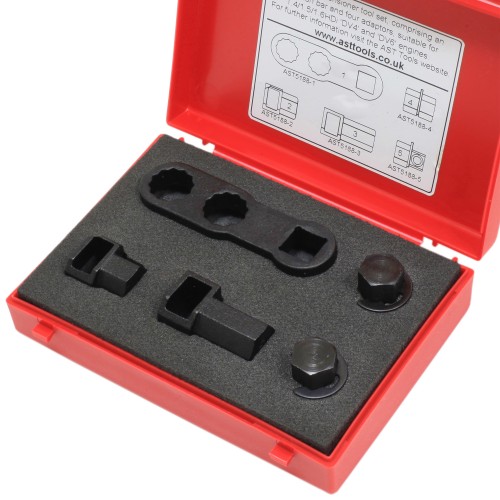 OEM tool codes included in this kit:
21-104
21-162B
21-168
21-229
21-260
21-262
303-1059
303-193
303-393
303-651
Notes:
Also suitable for Citroën-Peugeot 1.4 / 1.5 / 1.6 HDi engine applications.