AST5188
Auxiliary Belt Tensioner Tool Set - 1.4 / 1.5 / 1.6 / 2.0 / 2.2 Diesel Engines FORD - PSA
AST5188 Auxiliary Belt Tensioner Set has been developed to provide a safe and controlled method of adjusting the belt tensioner position during removal and installation of the auxiliary belt.
Belt tension is provided by a heavy spring built in to the tensioner unit, the tensioner features a raised peg as a location to apply leverage when removing or installing the auxiliary belt. Without the use of special tooling, belt removal or installation requires two people: while a technician applies leverage to the tensioner from above, a second person accesses and removes or installs the belt from the underside of the vehicle.
Carrying out this task without the special tools can be hazardous; the technician levering the tensioner may inadvertently release the tensioner too soon, trapping the second technician's fingers between the belt and tensioner, causing injury.
Access to the tensioner can be severely limited by engine and vehicle body components. AST5188 has been designed to provide easy access to the tensioner peg in all instances. The set includes a number of adaptors and an extension bar featuring two bi-hexagonal drives, providing a number of options when assembling the tool to access the tensioner.
AST5188 can be used with AST4765 Auxiliary Belt Tensioner Tool Set for even greater application coverage.
Also used on 2.0 / 2.2 DW10 and DW12 engines.
Models
Engines
Citroën
1.4 / 1.6 HDi 8v. / 16v.
C1 / C2
C3 III
C3 Pluriel
C4 Picasso
Ford
1.4, 1.5, 1.6 TDCi / ECOnetic 8v. / 16v.
B-MAX
C-Max
EcoSport
Fiesta
Focus
Focus C-Max
Fusion
Galaxy
Grand C-Max
Mondeo
S-MAX
Tourneo Connect
Tourneo Courier
Transit Connect
Transit Courier
Mazda
1.4 / 1.6 TDCi 8v. / 16v.
2 (DE/DH)
3 (BK/BL)
Mini
1.6 16v.
Mini Clubman
Mini Cooper
Mini One
R55/R56
Peugeot
1.4 / 1.6 HDi 8v. / 16v.
1007
107
206
206 CC
206 SW
307
307 SW
508
Toyota
Volvo
1.6 D4 16v.
C30
S40
S80
V50
V70
1.4
2WZTV
8HT (DV4TD)
8HX (DV4TD)
8HY (DV4TED4)
8HZ (DV4TD)
DV4
DV4TD (8HZ/8HX/8HT)
F6JB
F6JD
KVJA
1.5
AEDA
ENUG
UGCA
UGCB
UGCC
UGJC
UGJE
UGJG
XUCA
XUCC
XUCD
XUGA
XUJA
XUJB
XUJC
XVCA
XVCB
XVCC
XVGA
XVGB
XVGC
XVJA
XVJB
XVJC
XVJD
XVJE
XWDA
XWDB
XWDC
XWDD
XWDE
XWGA
XWGB
XWJA
XXDA
XXDB
XXDC
XXDD
1.6
9H01 (DV6TED4)
9HX (DV6ATED4)
D4164T
DV6
DV6ATED4 (9HX)
DV6TED4 (9HY/9HZ)
G8DA
G8DB
G8DC
G8DD
G8DE
G8DF
GPDA
GPDB
GPDC
HHDA
HHDB
HHJA
HHJB
HHJC
HHJD
HHJE
HHJF
MTDA
MZ-CD (Y6)
NGCA
NGDA
NGDB
T1BA
T1BB
T1BC
T1WA
T1WB
T3CA
T3CB
T3CC
T3DA
T3DB
T3JA
T3JB
TZGA
TZGB
TZJA
TZJB
U3CA
UBGA
UBJA
W16 D16 (9HZ)
Y6
With this kit you may also need: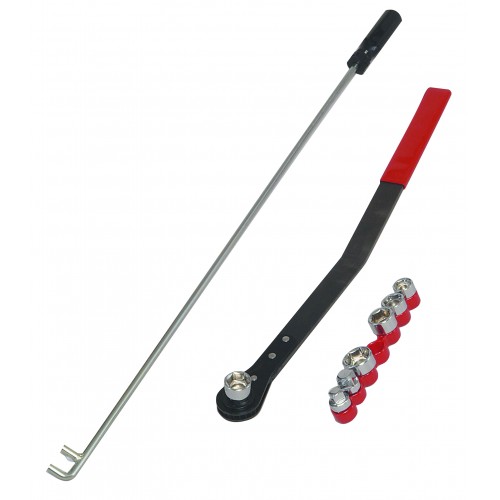 AST4765A
Auxiliary Belt Removal & Installation Set
• Designed to overcome restricted working space in this area of the engine compartment.
• Long handle - incorporates a Ratchet Drive
• Complete with 13mm, 14mm, 15mm, 16mm & 18mm sockets plus 3/8" and 1/2" drives.
• Belt Remover / Installer - provides reach and manoeuvrability to thread the belt around
the pulley system.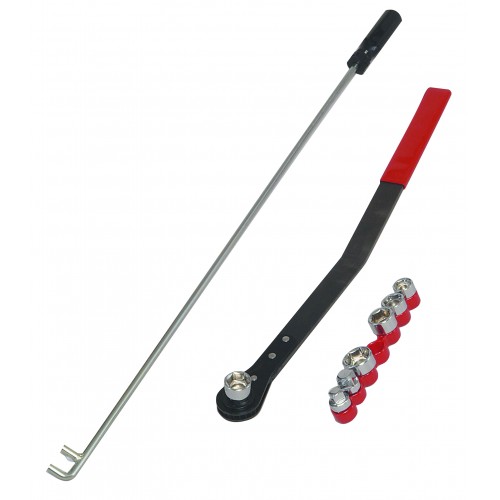 Alternative Tool Options:
OEM tool codes included in this kit:
01099
0188-Z
G-01099
PZ4L0-G0109-90
Notes:
This Auxiliary Belt Tensioner Set covers applications in Citroën, Ford, Mazda, Mini, Peugeot, Toyota and Volvo models.