AST4594A
Auxiliary Belt Tensioner Wrench and Socket Set
• Designed to overcome restricted working space in this area of the engine compartment
• Ratchet Mechanism provides quick & accurate tool position adjustment
• Uprated handle design to cover the latest tensioners (max torque 100Nm)

• Complete with 13mm, 14mm, 15mm, 16mm & 18mm sockets, plus 3/8" and 1/2" drives
• Can be used with Auxiliary Belt Tensioner Tool Set AST5188
• Set consists of Tensioner Wrench AST4594A-1 and Socket Set AST4594-20
Individual Sockets within the set:
1/2" Square Drive - AST4594-12
13mm Socket - AST4594-13
14mm Socket - AST4594-14
15mm Socket - AST4594-15
16mm Socket - AST4594-16
18mm Socket - AST4594-18
3/8" Square Drive - AST4594-38
With this set you may also need: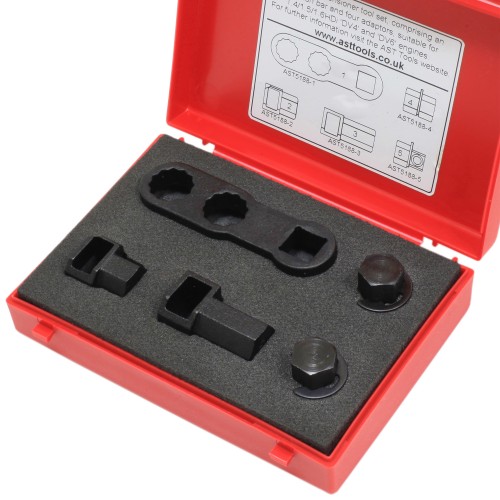 AST5188
Auxiliary Belt Tensioner Tool Set - 1.4 / 1.5 / 1.6 / 2.0 / 2.2 Diesel Engines FORD - PSA
AST5188 Auxiliary Belt Tensioner Set provides a safe and controlled method of adjusting the tensioner position during removal and installation of the auxiliary belt.
The tensioner features a raised peg, which acts as a location to apply leverage to the tensioner to remove or install the belt.
AST5188 contains a series of adaptors, along with an extension bar to allow easy purchase on the raised peg, which can then be used with an appropriate tensioner wrench and low profile thin walled socket such as the items contained in the set AST4594A.
Removal and installation of the auxiliary belt often coincides with the changing of the engine timing belt and therefore this tool can be used along with Engine Setting & Locking Kits AST4735A, AST4820, AST4830, AST5100AFORD and AST5100APSA.
Also used on 2.0 / 2.2 DW10 and DW12 engines.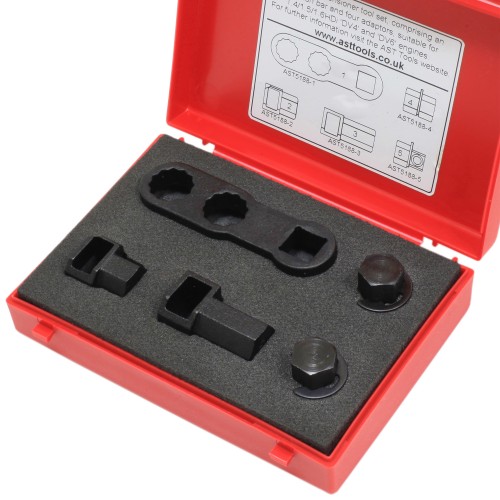 Alternative Tool Options: