AST5160
Diesel 1.2 / 1.6 / 2.0 TDi Common Rail Camshaft Installation Kit (Belt Driven)
VAG 1.2, 1.6 and 2.0 'EA189', twin camshaft, belt driven diesel engines have a single belt sprocket and a pair of drive gears at the rear of the camshafts. One of the drive gears is spring loaded to eliminate lash in the camshaft drive.
The camshafts are retained in the cylinder head by a camshaft carrier into which the bearing surfaces are machined. It is critical that the aluminium carrier frame and camshaft assembly are aligned and installed correctly to prevent damage and premature failure of the bearing surfaces.
AST5160 included the required tools to ensure that the camshafts are installed correctly. Without the use of correct tools the camshaft carrier and cylinder head bearing surfaces may be damaged.
AST5160 comprises - equivalent OE Ref:
Camshaft Assembly Frame - T40094A
Camshaft Setting Blocks (1.2/1.6/2.0) - T40094A
Camshaft/Carrier Retaining Tool - T40095
Camshaft Split Gear Positioning Tool - T40096/1
Camshaft Hub Holding Tool - T10051
Models
Engines
Audi
A1/A1 Sportback (8XA/8X1)
A3 Cabrio (8P7)
A3/A3 Sportback (8PA/8P1)
A4 (8K2/8K5)
A4 allroad (8KH)
A4/A4 quattro (8K2/8K5)
A5 Cabriolet (8F7)
A5 Coupe (8T3)
A5 Sportback (8TA)
A6 (4G2/4G5)
Q3 (8UB)
Q5 (8RB)
TT (8J3/8J9)
SEAT
Alhambra (710)
Altea/Altea XL (5P1/5P5/5P8)
Exeo (3R2/3R5)
Ibiza (6J1/6J5/6J8)
Leon (1P1)
Toledo (5P2/KG3)
Skoda
Fabia II (542/545)
Octavia II (1Z3/1Z5)
Praktik (5J7)
Rapid /Spaceback (NH1/NH3)
Roomster (5J7)
Superb II (3T4/3T5)
Yeti/Yeti Outdoor (5L6/5L7)
Volkswagen
Amarok (2H_/S1B)
Beetle/Coccinelle/Maggiolino (5C1/5C7)
Caddy/Caddy Maxi (2C_)
CC (358)
Crafter (2E_/2F_)
Eos (1F7/1F8)
Golf Plus (521)
Golf V Estate (1K5)
Golf VI Estate (AJ5)
Golf VI/Cabrio (517/5K1)
Jetta (162/1K2)
Passat (362/365/3C2/3C5)
Passat Alltrack (365)
Passat CC (357)
Polo (6R1)
Scirocco (137)
Sharan (7N1)
Tiguan (5N1/5N2)
Touran (1T1/1T2/1T3)
Transporter T5 (7H/7J/7E/7F)
1.6D
CAYA
CAYB
CAYC
CAYD
CLNA
2.0D
CAGA
CAAA
CAAB
CAAC
CAAD
CAAE
CAGA
CAGB
CAGC
CAHA
CAHB
CAYB
CBAA
CBAB
CBAC
CBBA
CBBB
CBDA
CBDB
CBDC
CCHB
CDBA
CDCA
CEGA
CFCA
CFFA
CFFB
CFFD
CFFE
CFGB
CFGC
CFGD
CFHA
CFHB
CFHC
CFHD
CFHE
CFHF
CFJA
CGLA
CGLB
CGLC
CGLD
CGLE
CJAA
CJCA
CJCB
CJCC
CJCD
CKTB
CKTC
CKUB
CKUC
CLCA
CLCB
CLJA
CLLA
CLLB
CMCA
CMEA
CMFA
CMFB
CMGB
CNEA
CNFA
CNFB
CSHA
With this kit you will also need: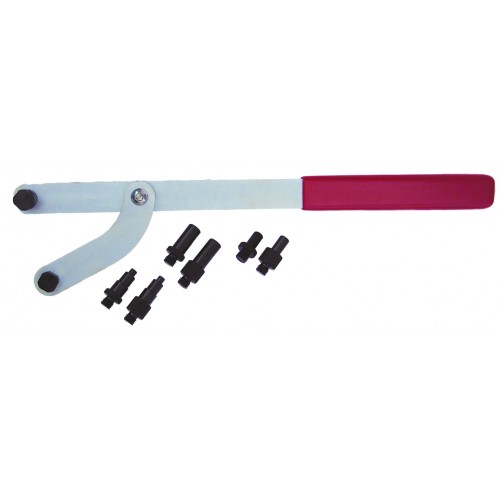 AST4844
Camshaft Sprocket Holding Tool with inter-changeable pins
Many engine timing procedures require the camshaft sprocket(s) to be 'free to turn' on the camshaft during belt tensioning or timing adjustment.
AST4844 Sprocket Holding Tool provides a safe and correct means of counter-holding the sprocket whilst releasing and tightening the sprocket bolt/nut.
OEM Numbers covered by this tool: 1.860.885.000, 9880, T10172, VAG3036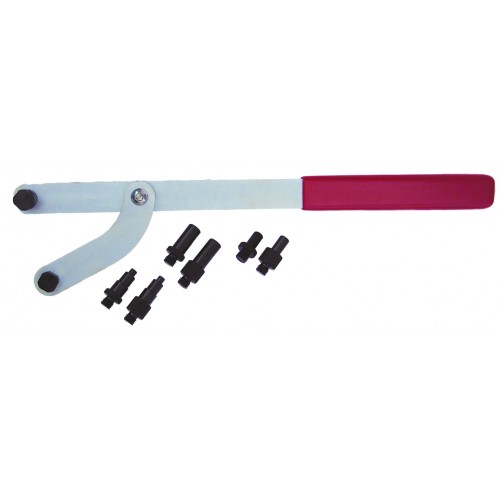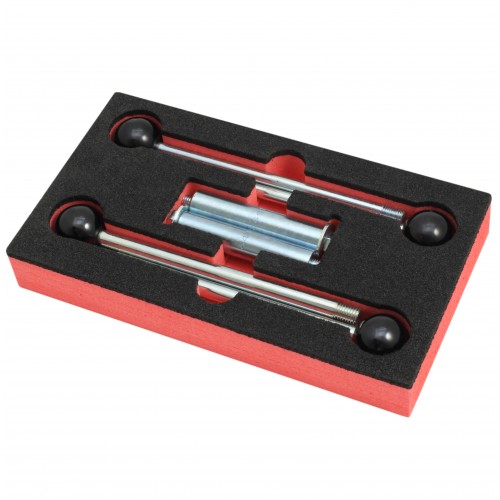 AST4741
Front End Panel Support Guide Set
AST4741 - Front End Panel Support Guide Set: Essential to extend front end to 'Service Position' for access during belt replacement.
OEM Numbers covered by this set: T10093, T20070, T30092, VAG3369, VAG3411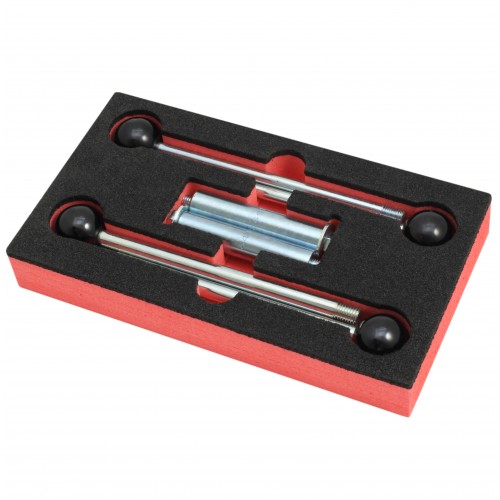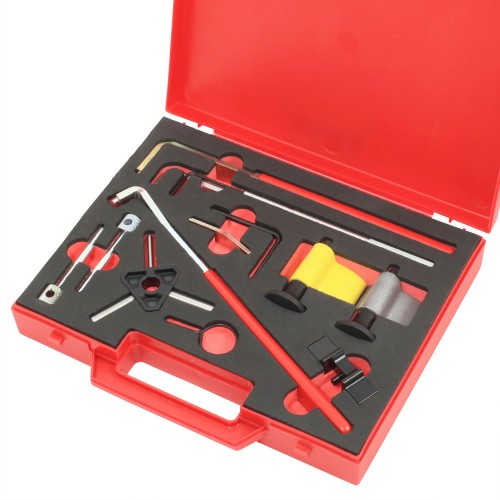 AST4840A
Diesel 1.2 to 2.0 Di/TDi PD Pumpe Düse & Common Rail Engine Setting / Locking & Belt Replacement Kit - VAG - Includes Balancer Shaft Setting Tool
AST4840A Engine Setting / Locking kit for VAG Pumpe Düse and Common Rail diesel engines has been updated to include AST4909 Balancer Shaft / Oil Pump Module setting tool.
AST4909 is equivalent to OE reference T10255 and is used to set the balancer shaft position on 2.0 TDi PD engines.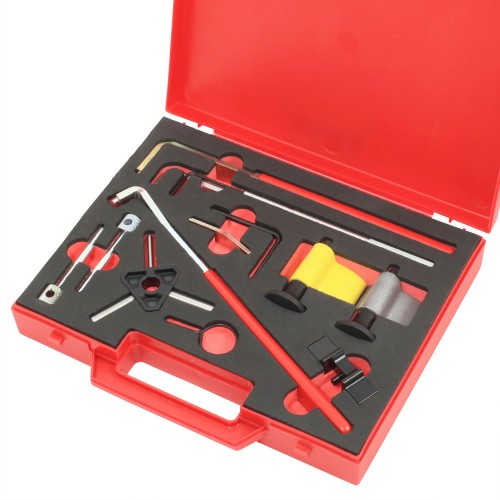 Adapter Set for 2.7 / 3.0 / 4.2 TDi (Chain Driven):
OEM tool codes included in this kit:
T10051
T40094
T40094/1
T40094/10
T40094/11
T40094/12
T40094/2
T40094/9
T40095
T40096/1
Notes:
Essential Tool - required when installing camshafts.